Fishing Charters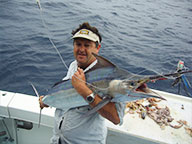 At Kona we try to provide a range of charter options. Bookings can be made for 3 days (Min) to 10 days (Max) it's up to you.
2B Survey (10 Passengers Max - 3 crew).
SWAINS REEF (6-10 days)
Situated 1OOn/m North-East of Yeppoon
Bottom end Great Barrier Reef, a must see
Live coral reefs/Crystal clear lagoons/Coral cays
An abundance of Reef Fish and Pelagic Fish
Fish the shallow reefs or deep dropoffs
Emperor, Redthroat, Trout, Spanish Mackeral etc
It doesn't get any better than out here
Shoalwater Bay/Island head (5 Day minimum)
Excellent fishing through the summer months
Very picturesque part of our coastline, good all round anchorage
Large creek systems, a sports fishermans paradise
Barramundi, Mangrove Jack, Fingermark, Mud Crabbing, Oystering and more
Fantastic reef fishing close by, something different every day
Port Clinton/Pearl Bay (4 Day Minimum)
Large inlet & estuary system on east coast of Shoalwater Bay
Military training area, good anchorage most winds
Brilliant sportfishing, light gear & crabbing
Capricorn Bunker Group (3 Day Minimum)
Cluster of islands surrounded by many reefs approx 50 n/m off the coast. Must have good weather conditions
Wide range of reefies and pelagics available
These are just some of the options available so send us an email or simply give us a call and we can arrange a trip to suit your needs.
Please Note all charter prices given will be inclusive of GST and Government Taxes/Fees (EMC Charges and Reef Taxes).