Deep Sea Fishing Charters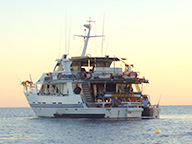 Welcome to Kona Fishing & Cruising Charters where our aim is to provide you with the best deep sea fishing trip experience possible.
Some of the most prolific fishing spots on the Great Barrier Reef are right here off the Capricorn Coast.
Ken Hamilton (our skipper) is well known & respected for his knowledge of the Swains Reef, Capricorn Bunker Group, Shoalwater Bay, Island Head and Port Clinton areas, with over 25 years experience, catching fish is assured.
He is also a partner in the business, a very much hands on skipper and dedicated to the comfort and safety of all our guests.
Whether you are an experienced fisherman or maybe going for the first time, our friendly crew are here to assist you with the necessary skills to start reeling them in.
We don't only target reef fish, some of the best sport fishing grounds and large creek systems are right here on our doorstep. Fishing or cruising this part of the Queensland Coastline is something special.
So send us an email or just give us a call and we can arrange a charter to suit your requirements.